Five Stars on Amazon - "A 'Must Have Book!"
For those terrified of public speaking, unafraid but ineffective, or unhappy with the results of current presentations, this book is for you.
From assessing your audience, to constructing your message with compelling language the audience can understand, to what really counts as a presenter, to conquering fear - this book gives the reader easy to use, impossible to forget tips and tools that can be put to work immediately. Also included; how to create and deliver a killer elevator speech and how to nail the interview. Whether you are a beginning speaker or an experienced one, this book will make you better, period.
By submitting this form you will be contacted for a free initial consultation with Debbie and receive a free copy of her book, Nail It.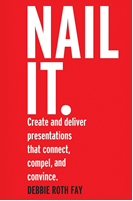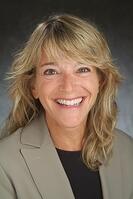 Debbie Roth Fay is the founder and president of bespeak presentation solutions, llc a company that provides presentation development, one-on-one public speaking coaching and corporate training to businesses worldwide. Debbie is an award winning trainer and teacher with a lifelong involvement in theater. Debbie helps people of all ages and vocations present themselves with confidence, conviction, and clarity, giving presentations that get heard and get results.