With our Quick Start template, it's much easier to create Personas for Marketing to Entrepreneurs.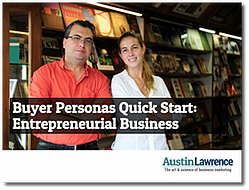 Just fill in the messages and tailor profiles to your business. The Quick Start template includes:
Personas for Business Owner, Second Generation and Office Manager

Each Persona template is four PPT slides, with room to add content that makes your Persona a powerful marketing tool

Resources to investigate Personas further

Building better Personas will increas your conversion rates and ROI from Inbound Marketing.


Download it today!
Please share this resource with your colleagues...